Von: Joseline XXX[mailto:joselineXXX@gmail.com]
Gesendet: Donnerstag, 17. Juli 2014 10:12
An: Heike und Meik Ehrath
Betreff: Bewertung

Hallo frau Ehrath !

Es sind schon zehn Tage seit wir wieder zu Hause sind und wir denken oft an unsere Ferien.
Anthony hat eine Bewertung geschrieben.
Vielen Dank für Eure Karte.
Joseline RXXX


"Our three weeks'stay proved to be an experience way beyond our expectations. Our accommodation was ideal and you could not fault the standard that each room achieved. Our level of relaxation was complete with the garden directly
linked to the patio which in both cases could be privately enjoyed. Our hosts, while unobtrusive, made one feel welcome and each evening the delightful touch of one of the family illuminating our outside area with candles, not forgetting the water feature whose happy murmur could only add to the sense of peaceful background. Our decision to be two or three kilometers outside the charming town of Staufen proved to be a perfect destination for beautiful walks and with the generous use of two of the family's bikes, it was very enjoyable cycling to Staufen on shopping expeditions. We can quite honestly say that for a couple who enjoy idyllic surroundings and home comforts together with splendid walking this was a perfect holiday location.
Anthony and Joseline RXXX"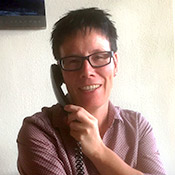 Ihre Gastgeberin:
Heike Ehrath
Tel. 07636 77 924
---